Brittany in the Springtime
Junior Brennan Broome spends Spring 2010 at Pont-Aven School of Contemporary Art in Brittany, France, as part of PNCA's Global Studios. Join Brennan, a student in PNCA's Intermedia department, throughout the semester as he becomes well-versed in the French language, shines through conceptual studio intensives and engages in site seminars throughout Europe.
Brennan Broome : May 09, 2010
Today I left Pont-Aven and am now on my way to Paris, where I will stay for 2 nights and then leave to London. The semester, now, feels like it went by so fast. At least the last month did. From spring break, to now, time seemed to have sped up. The last week I had to hurry and do all the final projects I wanted to complete before leaving, collect all the photographs and video around town, and say goodbye to all my classmates, teachers and host mom. Busy, busy week. Maybe that's why it all went by so fast…
But, now I am on the SNCF headed to a rainy Paris. We'll be staying in Montparnasse, near the tower and walking distance to the Latin Quarter and Notre Dame.
I can't wait to visit London. I'm even excited for the train ride there across the Channel. The train goes underwater! I'm looking forward to seeing the Tate Museums and all the tourist attractions for the first time, as well as meeting my London-native host.
I have a long voyage ahead of me before I come back to the States, which I hope is not postponed by the volcano in Iceland…
See ya
Brennan
Brennan Broome : May 06, 2010
Today, we made the hour and a half drive to Carnac in the neighboring Morbihan department(Pont-Aven is in Finistère).
Carnac is a commune on a very narrow peninsula, near the Gulf of Morbihan. It is known for having one of the most extensive Neolithic menhir (standing stones) collections in the world. A historical site, known as the setting for the famous French-cartoon Asterix, Carnac was first started in the Neolithic era, around 4,500 BC, by the pre-Celtics, Bretagne's orginal inhabitants. Like Stonehenge, its not known exactly what the stones were erected for, but the tour guide said their guesses are leaning towards religious or ceremonial use. There are, today, approximately 3,000 stones in the Carnac enclosure, with many more areas scattered around neighboring towns and some throughout all of Bretagne. They even have little sheep roaming the enclosure to keep the land and grass growth under control. Legend around here is that the stones of Carnac are so straight because they are a Roman legion turned to stone by Merlin, the wizard of Arthurian tales. (The Bretons claim that the Arthurian setting was really in Bretagne)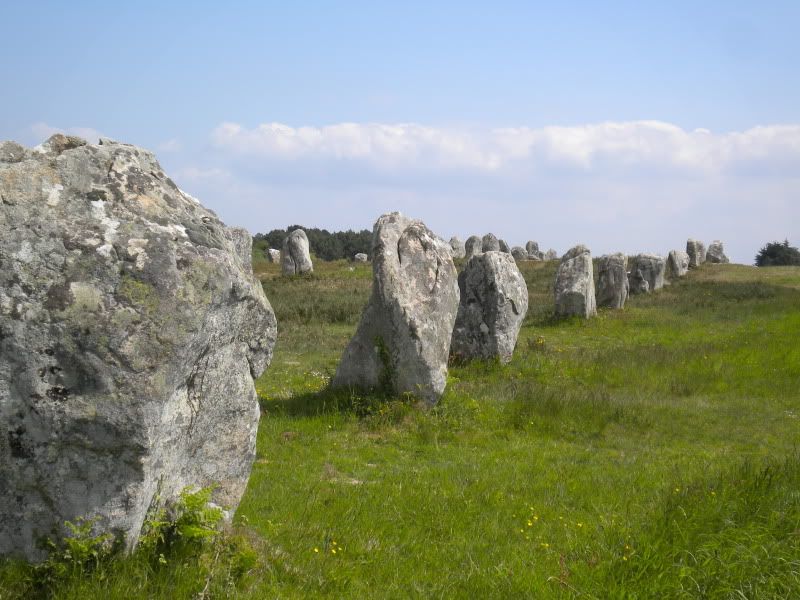 After visiting Carnac, we went up the hill to see the Tumulus du Saint-Michel, a small chapel built over the tomb of Saint-Michel. There was a really great view of Carnac and the gulf from the top of the hill.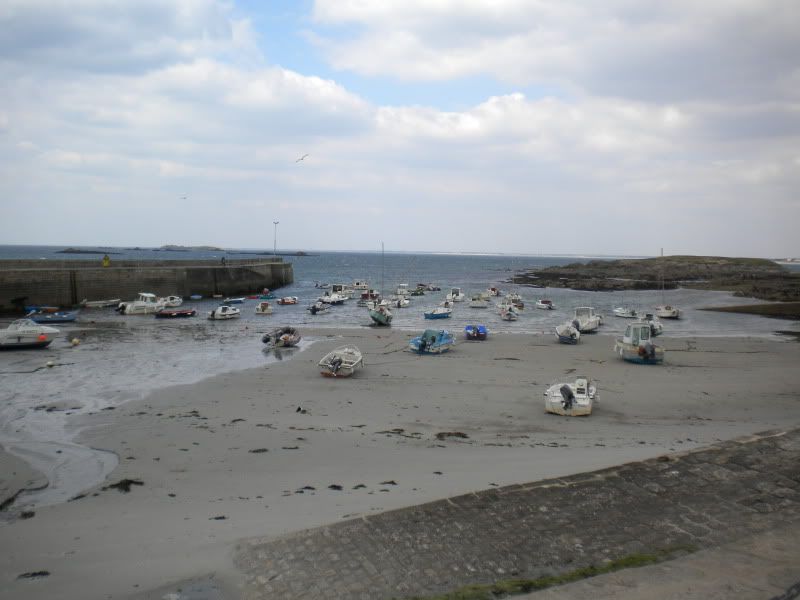 We then went to the beach, Portivy, in Quiberon, near the tip of a very thin peninsula, and then stopped at Erdeven, another, much smaller, megalith site.
So, I got to check off many things on my "To do before leaving" list today!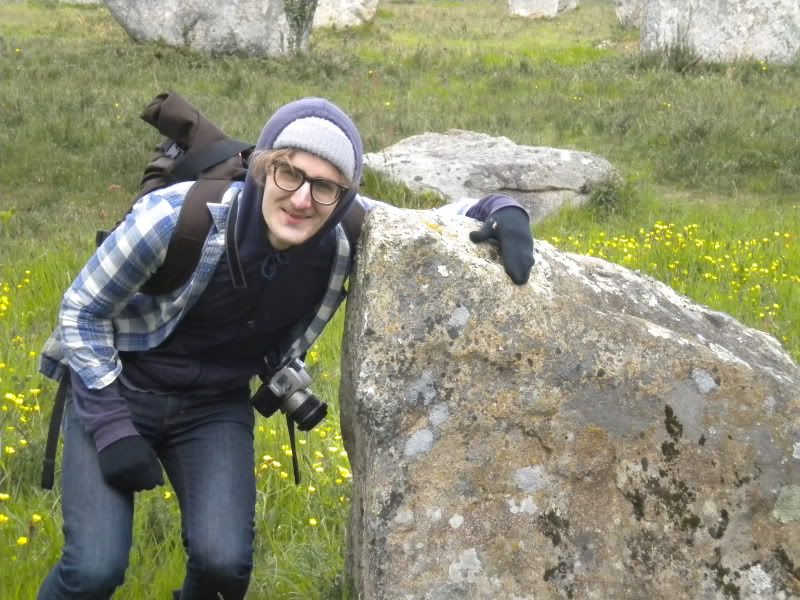 Au revoir,
Brennan
Brennan Broome : May 06, 2010
Well, it's post-exhibition time, meaning last week in Pont-Aven, no more classes and time to finish up all loose ends before making our way to Paris or wherever our next venture is to. For me, it will be to Paris for two nights and then take the Eurostar rail to London for the rest of my time in Europe, until I fly back to Portland.
The end of the semester exhibition and open-studios went very well. There was a very good turn-out all weekend long, with the opening ceremony bringing together many people from the community for wine and h'our dourves. Overall, it was a very rewarding experience to organize the exhibition and then be able to enjoy the party with so many people from the town.
But for this last week, we have very busy schedules. Monday, we will finish off the school year with final critiques and time-based media screenings and then the last dinner with my host mother. Tuesday, time to start packing, cleaning-up the studio space, and then the final group dinner at the Moulin du Grand Poulguin. Wednesday, we will go as a group to the historic site of Carnac. Megalithic rocks (like Stonehenge, but pre-dating) cover miles of land organized in lines and grids. It's one of the most famous tourist attractions in Bretagne, so it will be good to get the opportunity to see it before leaving. Thursday, we will spend all day cleaning out our studios completely, painting the walls and everything. And friday, we will have our certificate ceremony and a small party with host-families that night, our last night in Pont-Aven. Finally, on Saturday, all those students going to Paris, will take the train and depart from Pont-Aven, on their ways home.
I really can't believe how fast it seems that this past semester went by, and that we are already on the last week. There are many things I wish to get done before leaving, so it will be a very busy week ahead of me, before I leave.
I put together for one of my finals this 10 minute video of interviews with all of the students here this semster, just a way to document all of us and our time here and what we hope to come in our futures>
http://vimeo.com/11429323
You'll have to turn the volume up all the way and go to a completely quiet room, probably, to hear it, as I compressed it so much to be a small enough file size to upload on Vimeo so much that the sound severly suffered. But, enjoy a glimpse of PASCA and Pont-Aven!
See ya soon!
-brennan
Brennan Broome : Apr 24, 2010
All semester long we have been hard at work, in our studios, preparing projects for in and out of class. This coming Friday, April 30th, we will open the doors to the public, unveiling our end of the year exhibition "Geographies Personelles: Personal Geographies". This exhibition will open simultaneously with our Open House: Open Studios. Every student has had work they have completed over the semester, chosen by faculty to be put in the Centre International d'Art Contemporain here in Pont-Aven, and also created a French and English artist statement.
This past week, students, faculty and staff have been hard at work, hanging art and mounting projectors, in order to put this 20+ person show together.
On Monday, we will have a private gala, showing the work to PASCA board members, and then on Friday, the 30th, we will open it up to the public with a reception and hors d'oeuvres prepared by the students. Plus, maybe a little champagne. ;]
Next post will contain some photos of the event, the installation and maybe even some studios!
So stay tuned!
Bon week-end!
Brennan
Brennan Broome : Apr 18, 2010
The birds are singing and the grass is green. After a week off from school for spring break, the town is in bloom and everyone is returning back to Pont-Aven from their trips around Europe, to get focused back on work and finish up the last month of school. In the weeks to come there is much to do. On the 30th of April, we will be opening up our studios to the public as well as hosting our end of the semester exhibition in the Centre International d'Art Contemporain here in Pont-Aven.
Over break, I was able to explore Pont-Aven and the surrounding cities and find many hidden gems. Right here, in Pont-Aven, my host mother guided me to Château de Rustéphan,ruins of a 15th century castle.
My host mother told me the local legend that the princess who had lived in the castle, upon the marriage of the man she was in love with, to another woman, she climbed to the top of the tower and jumped to her death. Quite a romantic story.
The sun is shining and so the group of us students(and faculty) that were around for spring break, took a picnic to Port Manech, where the Aven meets the ocean.
Later in the week, my host mother, Rainbow (PNCA Alumn 2009), Hedwig (Instructor) and I hiked along the Aven river all the way to the ocean at Port Manech, but this time on the opposite side, near Port de Belon (of Anthony Bourdain's 'No Reservations' fame, filmed just around the time we arrived in January)They are very well-known for their oysters there I hear.

Aside from those small day trips and picnics, I took the time-off to relax, and get a head start on the many projects I must complete before leaving Pont-Aven and heading back home.
Now, its back to work for us all!
-Brennan
Brennan Broome : Apr 04, 2010
I just returned from the second installment of travel trips to Paris and Berlin. The trip started with a 5 hour or so drive from Pont-Aven to Paris, making stops in Chartres, to see the Chartres Cathedral and then a second stop right outside of Paris at MAC/VAL (Musée d'art contemporain du Val-de-Marne), where on view was a special exhibition by Christian Boltanski, one of my most favorite artists. They also have a good-sized permanent collection of contemporary french artists. Leaving at 7 in the morning, we arrived at our hotel in the 9 arrodissement of Paris. We spent what felt like a very short 3 days in Paris, getting to see the many tourist attractions, such as the Eiffel Tower, Notre Dame, Montmartre, etc. as well as many museums and institutions of art like the Louvre, CentrePompidou, and Palais de Tokyo. It was great to finally get to see the real Paris for the first time after living in France for so long and only having seen the Charles de Gaulle Airport. But no matter how nice it was in Paris, it could not compare to the great time in Berlin. The architecture, the art, the atmosphere and the history are so abundant and hold such a strong presence in the culture of Berlin, but it never gets to be too much in your face like some cities can be… It does not feel like a tourist city, you could find the local spots and fit right in. In Berlin we also saw many museums of art, such as the Berlin Guggenheim and the Hamburger Bahnhof Museum, but also got to see many local galleries and artist squats. A little exploring of my own led me out to the 1936 Summer Olympic Stadium. The hotel was great, the food was a nice escape from French cuisine, and the history was fascinating. The entire city, practically, is new. After WWII, everything was left destroyed, aside from a few large churches and government buildings which can still be seen standing in ruins. And not only is there the history of war, but also of the Berlin Wall. Hearing the stories from locals and seeing the preserved pieces and location of the wall was so interesting and one of my favorite experiences of the whole trip.

Luckily, I recieved a new camera from home just in time and was able to take pictures of my travels.
Now, I am back in Pont-Aven, on Spring Break, maybe to explore Bretagne a little more.
Cheers
Brennan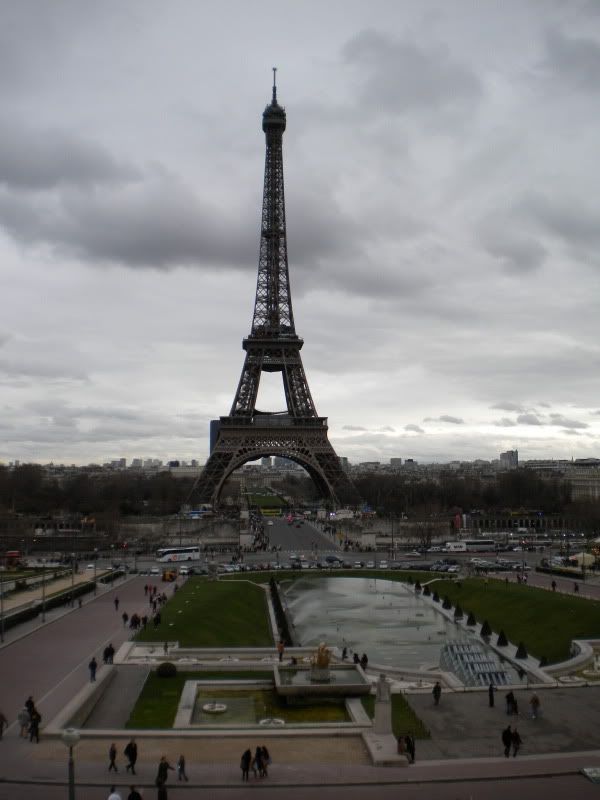 Brennan Broome : Mar 20, 2010
Today is the opening of a midterm exhibition that myself and 7 other of the students put together. It consists of works exhibited within the Bois d'Amour, or the 'Woods of Love' near the school, all of which have to do with the idea of impermanence. The exhibition consists of work by 8 artists, all from different countries, including India, China, Montenegro, France, Romania and the United States (me). We've had beautiful weather all week, until yesterday, the day of installation, it rain and flooded the river a little bit up onto the path. It set back the installation a little bit, but this morning we all pitched in to put everyone's pieces together and out in the woods.
Going along with the theme of permanence/impermanence, the show will last as long as mother nature allows it.
Overall, the experience has been a great one of getting some people together and getting the necessary steps done to create a show, on your own, from scratch. We had to work with the city office to receive permission, create invitations/fliers/posters and set-up press with the local papers. Luckily we have a French student on board to help communicate through it all.
I created the map/flier for the event which can be seen here:

We also put an ad in the local paper:
*Also pictured up top- my piece in the exhibition.
'Vous êtes ici' or 'You are Here'- A set of footprints underneath the map of the bois marking the place where all start and therefore have once been.
Brennan Broome : Mar 05, 2010
I returned from Spain about a week ago and have been very busy since, finishing up all the projects for the week. But, now that it is Friday night, and I have turned all of my homework in for the week, I can take the time to post on what has been going on recently.
Spain was a great experience. We spent 3 days in Madrid and on the fourth, took the train to Barcelona, where we stayed for 3 more days before flying back to France. Madrid reminded me very much of New York City, or San Francisco, very urban and metropolitan. Barcelona was much more cultural, with many Gaudi architectures, but far too many tourists, of which they take full advantage of.
All went well though, until coming home, somewhere between our connection flight in Lyon, FR and the bus ride to Pont-Aven I lost my camera containing all of the pictures I had taken on the trip to Spain(before I had the chance to upload any onto my computer). So I am without images of the trip to share, but atleast I still have the memories… But all the other students posted their 10 best photos from Spain on the PASCA facebook site here: http://www.facebook.com/#!/album.php?aid=193778&id=118693841809&ref=mf
On a happier note, I celebrated my 21st birthday yesterday. I was greeted in my studio by a wonderful little apricot tart from the students

I then made dinner and dessert for all of the students, which, back to bad news, resulted in an allergic reaction by another student to cashews in one of the dishes. Luckily the emergency response team is just around the corner from the school and he is healthy and back at school the next morning. But it made for an eventful birthday here in Pont-Aven.
Au Revoir,
Brennan
Brennan Broome : Feb 26, 2010
We arrived in Madrid Thursday night. Upon arrival I felt like I was in New York City. The buildings are very large, the streets are filled with people and busy traffic. Very different from life in Pont-Aven. It has been nice to get away from the small-town life and experience new things, new people, new culture an__d to have light at night!
Madrid felt a lot like a big city in the U.S., maybe even too much. It was familiar in a way, which was nice, reminded me of home, but within the downtown area there wasn't as much Spanish culture as I was expecting and hoping for, especially in the capital city.
Me and a fellow student took it upon ourselves to go out of the downtown area, in search of the Spanish neighborhoods, away from the salad and pizza buffets and tourist shops, and found some cool places. We visited many museums in Madrid. At Museo del Prado, with art from the 12th-19th century, we saw paintings by Titian, Velazquez, Bosch, Reubens, El Greco and of course, Goya. It was a very large museum, filled with paintings I had seen in slides in art history classes. We then, that same day, went to the Reina Sofia, a 20th century art museum, on the other side of El Prado. There, we saw works by Dali, Miro, Yves Klein, Braque, Francis Bacon and Picasso, most notably Guernica. In a room by itself, due to its enormous size as well as its notoriety, Guernica was the busiest of all the works in the whole museum. It was actually quite empty until that room.
The next day, right before catching the train to Barcelona, we spent a couple of hours in the Thyssen-Bornemisza Museum, which we decided was just filled with whatever the other two museums didn't want. Big names, but not-known pieces.
We then hopped on the train towards our next destination, Barcelone. Much different from Madrid, but still very busy and touristy(maybe even more so than Madrid, atleast on La Rambla), we arrived to sunshine and a night of rest in this coastal town. While here, we'll get to see many architectural pieces by Gaudi as well as two very large retrospectives by John Baldessari and Rodney Graham at MACBA. Very excited.
Internet is not free here, so I must be off and see the town.
Adiós,
Brennan
(photo courtesy of Wikipedia as I have not been able to upload my photos yet. Plaza Mayor)
Brennan Broome : Feb 17, 2010
Tomorrow I will be heading off to Spain for a week as our first group study trip. We will be taking a plane from Lyon, FR to Madrid, stay there for a couple of days, and then take the train to Barcelona. We'll be in Spain for a total of one week, where we will be attending the ARCO Art Fair Madrid, MACBA in Barcelona, as well as seeing the many pieces of architecture by Gaudi throughout Barcelona.
The past week here in Pont-Aven has been very cold. We've seen some snow once or twice and a lot of rain, but as I write you now, the sun is out.
I moved in with another host for a week as my host mother took two weeks to go to Africa with her Grandson. I now am staying with Chez Phillipe and another student, Ryan, from RISD. Phillipe has two parrots that speak french and he drives us to neighboring towns spontaneously. The other night we went to the walled city within Concarneau. Its a midieval ville that has now become a frequented tourist spot during the summer. When we were there, it was dark and empty and quite eerie. But it was by far my most favorite place I have been to so far.
I have started a 'sketchbook' blog that I post most my documentation of completed assignments as well as other notes and journal entries. You can view the blog at this link: http://www.personallandscape.blogspot.com/
You can also see more of the projects related to video I have been working on since being here on my Vimeo account: http://vimeo.com/user3117989
I am very excited to visit Spain and then blog all about that. Talk to you when I get back!
Au revoir,
Brennan
Brennan Broome : Feb 06, 2010
These first two weeks have been very busy, becoming acquainted with the city, the school, my teachers and peers and host mom along with learning the language and starting right into intense class work and trying to fit in some of my own work and leisure time. But today, Saturday, the 6th of February, I have made time to write to you all. I have attended the first, and second of some, of all my classes I will be taking this semester. On the curriculum this term, under a theme of 'mapping: personal space, urban/rural space and mental space', I will be taking a critical theory course taught by prof. Barbara McBane, who has performed sound/dialogue editing tasks on many films such as Apocalypse Now, Dead Poets Society, The Talented Mr. Ripley and many many more. The other two professors are working artists, both living and working on the east coast, Dhalia Elsayed of New Jersey teaching 2-D courses and Hedwig Brouckaert, originally of Belgium, now New York, is teaching the 3-D courses. Along with that I have a French language course. A very full schedule. But still, we have found enough time to take many trips including to the beach at Port Manec'h, the 'Goodwill of France' Emmaüs, ride public transportation to the neighboring city Quimper, among many other things. If you care to see the many pictures I have taken and update regularly, you can check out my Facebook page at:http://www.facebook.com/#!/profile.php?ref=name&id=583807259
This past week, the most exciting thing to happen since arriving in Pont-Aven, and France in general, we celebrated Chandeleur, or jour des crêpes- crêpe day! On the second of february, the country of France celebrates by feasting on crêpes to commemorate the purification of the Virgin Mary and the presentation of baby Jesus. So my host mother got out her krampouz and taught me how to make the traditional, savory Breton Galette.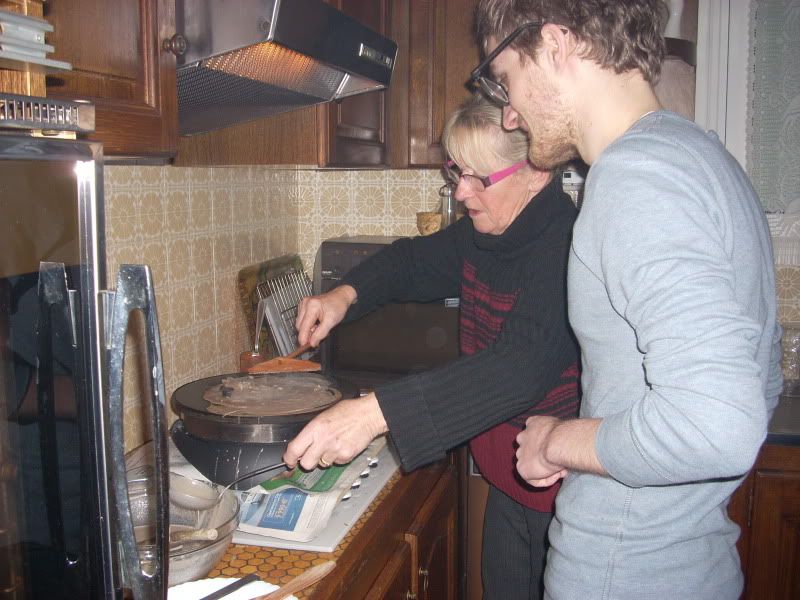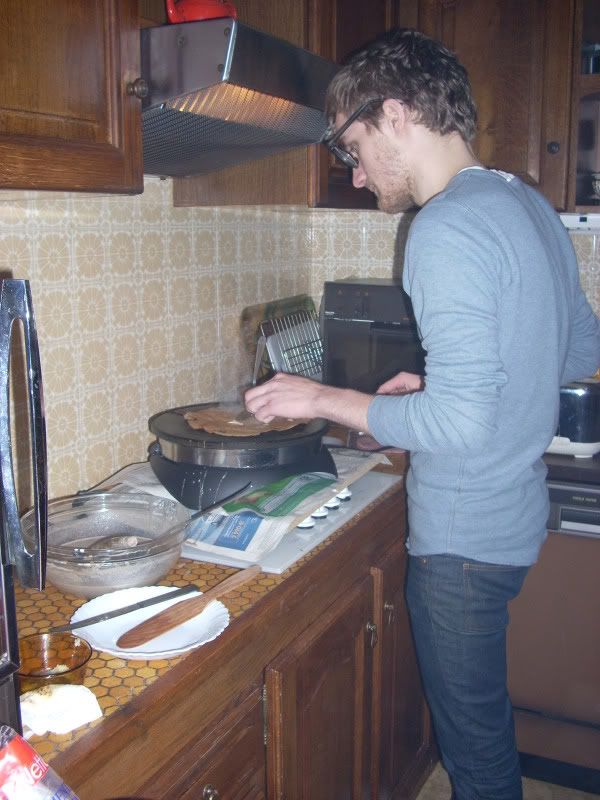 Mine were never perfectly round, but they tasted great!
Oh yeah, and I met the Breton Girl, Bretagne's Miss America! Sort of.
Bon week-end Portland!
-Brennan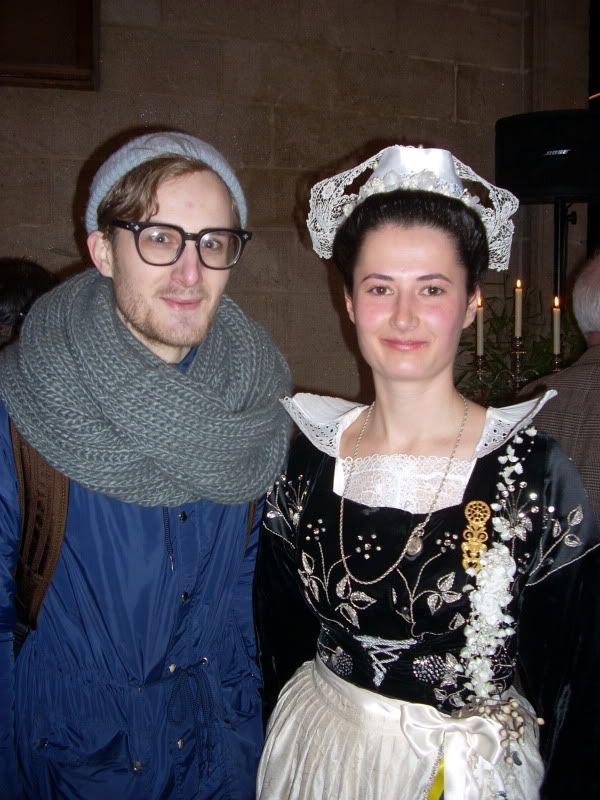 Brennan Broome : Jan 27, 2010
After an 18 hour trip across the United States, over the Atlantic and down into the Charles de Gaulle airport of Paris, France I was greeted by many of the students and staff members, one of whom is Rainbow Ross, PNCA Alumn 2009, whom I will be working with for the next 3 and a half months in Pont-Aven.
The days of traveling were not yet finished, as we then jumped, literally, on a what was going to be a 5hour ride to Rennes, a 1 hour layover and train switch and then the final 1 and a half hour ride to Lorient, where we would meet our host families, mine to be a Madame Le Gall, the same to host Rainbow when she was here in Spring of 2008,and then another hour drive to Pont-Aven. I arrived at Mme Le Gall's house at about 7:30 in the PM that night. Her house is very nice and out of the town, across the bridge, up by the discotheque, the only one in town. She lives alone in a very large house and has a TV. Luckily she speaks some English as I hear many host families do not. (I will post pictures once I can buy batteries as the ones I brought are dead and the charger is not working.)
The meals are very large, 5 courses every meal of the day. I've eaten so much I am forgetting when I ate what. This morning I ate toast with homemade blackberry jam and coffee, then a vegetable stew with onions-carrots-and potatoes, and then a vegetable scramble w rice and then cabbage and black radish salad. Bread with every course. Oh yeah and then a lemon and raisin cake. I think she gave me breakfast and lunch since I woke up at "mid-day" (12:00 PM). It is quiet and quaint. Most of the buildings are art galleries, seriously just about every building in all of Pont-Aven, poplulation 3000, is an art gallery. As Mme Le Gall drove me into the city for the first time, she went through town and pointed out them all. On the street to my house, it is about 15 galleries, 3 clothing stores, 4 cafes or bakeries and then the discotheque at the top of the hill. I hear at the top of the hill you can see the most stars.
à tout à l'heure
-Brennan
This blog is powered by Homeroom, handmade at PNCA.